The Ashdown Workshop Co. In The Press.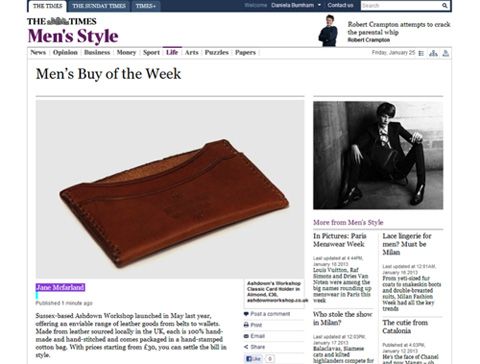 Featured Press - The Times - 25.01.13
"Sussex-based Ashdown Workshop launched in May last year, offering an enviable range of leather goods from belts to wallets. Made from leather sourced locally in the UK, each is 100% hand-made and hand-stitched and comes packaged in a hand-stamped cotton bag. With prices starting from £30, you can settle the bill in style."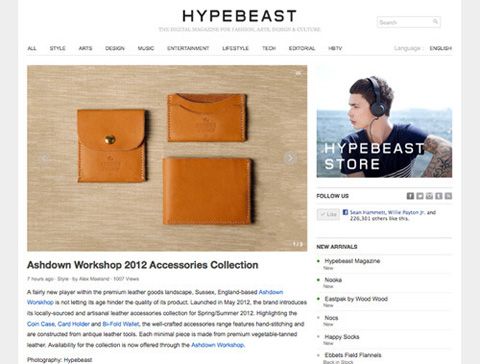 Featured Press - Hypebeast - 28.06.12
"A fairly new player within the premium leather goods landscape, Sussex, England-based Ashdown Worskhop is not letting its age hinder the quality of its product. Launched in May 2012, the brand introduces its locally-sourced and artisanal leather accessories collection for Spring/Summer 2012."
columns="3" paddingv="20"-->
http://i98.photobucket.com/albums/l247/dammithammit/selectism_mag_march_2013_zpse9c7701a.jpg
#link#http://www.selectism.com/2013/03/21/the-ashdown-workshop-raven-accessory-collection/##nw
#caption#
Selectism
March, 2013
The Ashdown Workshop Co. Raven Collection
http://i98.photobucket.com/albums/l247/dammithammit/tds_mag_march_2013_zps09abf04e.jpg
#link#http://www.thedailystreet.co.uk/2013/03/ashdown-workshop-black-raven-collection/##nw
#caption#
The Daily Street
March, 2013
The Ashdown Workshop Co. Raven Collection
http://i98.photobucket.com/albums/l247/dammithammit/proper_mag_march_2013_zpsf0029bf5.jpg
#link#http://www.propermag.com/site/ashdown-workshop-raven-black-collection-2013-03##nw
#caption#
Proper Mag
March, 2013
The Ashdown Workshop Co. Raven Collection
columns="3" paddingv="20"-->
http://i98.photobucket.com/albums/l247/dammithammit/lineage_mag_march_2013_zps65527de5.jpg
#link#http://lineageofinfluence.wordpress.com/2013/03/28/ashdown-workshop-co-raven-black-collection/##nw
#caption#
Lineage Of Influence
March, 2013
The Ashdown Workshop Co. Raven Collection
http://i98.photobucket.com/albums/l247/dammithammit/reference_council_march_2013_zpsbd1da311.jpg
#link#http://www.thereferencecouncil.com/2013/03/ashdown-workshop-premium-bi-fold-wallet-raven/##nw
#caption#
The Reference Council
March, 2013
The Ashdown Workshop Co. Premium Bi-Fold Wallet - Raven
http://i98.photobucket.com/albums/l247/dammithammit/thecarry_march_2013_zps36a7f071.jpg
#link#http://thecarry.com/collections/ashdown-workshop-raven-accessories-collection/##nw
#caption#
The Carry
March, 2013
The Ashdown Workshop Co. Raven Collection
columns="3" paddingv="20"-->
http://i98.photobucket.com/albums/l247/dammithammit/oct_selectism_press_zpsd0793413.jpg
#link#http://www.selectism.com/2012/10/09/the-ashdown-workshop-co-leather-iphone-case-for-4-4s-5/##nw
#caption#
Selectism
Oct, 2012
The Ashdown Workshop Co. iPhone Cases
http://i98.photobucket.com/albums/l247/dammithammit/oct_tds_press_zpse592a0f9.jpg
#link#http://www.thedailystreet.co.uk/2012/10/ashdown-workshop-iphone-5-cases/##nw
#caption#
The Daily Street
Oct, 2012
The Ashdown Workshop Co. iPhone 5 Cases
http://i98.photobucket.com/albums/l247/dammithammit/june_thecarry_press_zps7c0723d9.jpg
#link#http://thecarry.com/cases/ashdown-workshop-2012-accesories-collection/##nw
#caption#
The Carry
August, 2012
The Ashdown Workshop Co. Product/Website Launch
columns="3" paddingv="20"-->
http://i98.photobucket.com/albums/l247/dammithammit/may_selectism_press2.jpg
#link#http://www.selectism.com/news/2012/05/10/the-ashdown-workshop-co-british-made-leather-goods/##nw
#caption#
Selectism
May, 2012
The Ashdown Workshop Co. Product/Website Launch
http://i98.photobucket.com/albums/l247/dammithammit/may_tds_press.jpg
#link#http://www.thedailystreet.co.uk/2012/05/introducing-ashdown-workshop/##nw
#caption#
The Daily Street
May, 2012
The Ashdown Workshop Co. Product/Website Launch
http://i98.photobucket.com/albums/l247/dammithammit/may_selectism_press1.jpg
#link#http://www.selectism.com/news/2012/05/17/buyers-guide-6-of-the-best-keychains//##nw
#caption#
Selectism
May, 2012
The Ashdown Workshop Co. Paracord Keyclip
columns="3" paddingv="20"-->
http://i98.photobucket.com/albums/l247/dammithammit/may_lineageofinfluence_press.jpg
#link#http://lineageofinfluence.wordpress.com/2012/05/16/ashdown-workshop/##nw
#caption#
Selectism
May, 2012
The Ashdown Workshop Co. Product/Website Launch
http://i98.photobucket.com/albums/l247/dammithammit/may_apartmenttherapy_press.jpg
#link#http://www.apartmenttherapy.com/10-timeless-ipad-carrying-cases-170785##nw
#caption#
Apartment Therapy
May, 2012
The Ashdown Workshop Co. Premium iPad Case
http://i98.photobucket.com/albums/l247/dammithammit/may_sq_press.jpg
#link#http://sqmagazine.co.uk/2012/05/ashdown-workshop-launch-debut-collection/##nw
#caption#
SQ Magazine
May, 2012
The Ashdown Workshop Co. Product/Website Launch
columns="3" paddingv="20"-->
http://i98.photobucket.com/albums/l247/dammithammit/may_softwater_press.jpg
#link#http://soft-water.blogspot.co.uk/2012/05/ashdown-workshop.html##nw
#caption#
Soft Water
May, 2012
The Ashdown Workshop Co. Product/Website Launch
http://i98.photobucket.com/albums/l247/dammithammit/may_cosmicbikepolo_press.jpg
#link#http://cosmicbikepolo.wordpress.com/2012/05/02/the-ashdown-workshop-co/##nw
#caption#
Cosmic Bike Polo
May, 2012
The Ashdown Workshop Co. Product/Website Launch
http://i98.photobucket.com/albums/l247/dammithammit/may_thrillest_press.jpg
#link#http://www.thrillist.com/style/london/ashdown-workshop_belts_online-shops_vintage_wallets_gifts##nw
#caption#
Thrillist
May, 2012
The Ashdown Workshop Co. Product/Website Launch
columns="3" paddingv="20"-->
http://i98.photobucket.com/albums/l247/dammithammit/may_urbandaddy_press.jpg
#link#http://www.urbandaddy.com/ntl/style/18057/The_Ashdown_Workshop_Co_Leather_Gear_from_the_Royal_Family_s_Saddle_Guy_National_NTL_Clothing##nw
#caption#
Urban Daddy
May, 2012
The Ashdown Workshop Co. Product/Website Launch
http://i98.photobucket.com/albums/l247/dammithammit/tds_june_press.jpg
#link#http://www.thedailystreet.co.uk/2012/06/ashdown-workshop-leather-iphone-44s-cases/##nw
#caption#
The Daily Street
June, 2012
The Ashdown Workshop Co. iPhone Case
http://i98.photobucket.com/albums/l247/dammithammit/lineage_june_press.jpg
#link#http://lineageofinfluence.wordpress.com/2012/06/19/ashdown-workshop-co-iphone-cases/##nw
#caption#
Lineage Of Influence
June, 2012
The Ashdown Workshop Co. iPhone Case